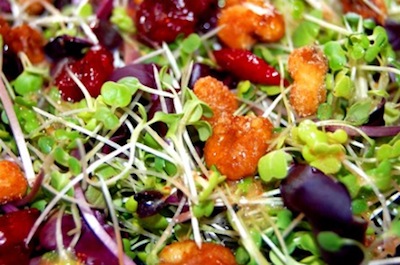 Welcome to the world of growing your own microgreens. You can grow outdoors in warm seasons, or indoors all year long — even if you have limited space. It's literally countertop gardening. Microgreens are inexpensive, fun to grow, and cover a wide variety of exciting, nutrient-dense tastes. It also makes it easy to consume more living foods! For all of the latest cutting-edge info on the health benefits of consuming more raw foods and how to incorporate them into your lifestyle when living in the "real world," please refer to my internationally popular digital seminar program Renew Your Life. Don't rush through the program. For some, it takes one year to complete. If you have lots of free time, it might take you 4-6 weeks.
I learned about growing microgreens from my grandmother when I was a teenager, at the same time she taught me how to grow sprouts (see previous Blog series all about sprouting). I always have microgreens growing in my kitchen because they are packed with big flavor and take only a few minutes spread out over a week or two to grow and harvest. You can grow your own little greens of arugula, basil, purple cabbage, sunflower seeds, chard, radishes, broccoli, cilantro, and more.
Get the children involved in the process, too. They love to participate in this growing process. You'll marvel at the small amount of space needed to grow microgreens—I use my porch, patio, deck, windowsill, kitchen counter and balcony—which allows them to be easily incorporated into daily meals. As mentioned in the book Microgreens, the greens' nutritional potency make them a must-eat in a healthy diet. Eaten alone as a salad or added to soups, entrees, sandwiches, burgers, or anything else imaginable, these tiny greens will enhance everyday food and life. I purchase all of my microgreen supplies at GrowingMicrogreens.com. They have the best organic seeds, starter kits, and everything you need to embrace the wonderful world of microgreens in your lifestyle. If you would like to view short instructional videos on how to grow microgreens with or without soil, click HERE. To learn more about microgreens, continue reading.
Most of the microgreens I grow are without soil; they are hydroponically grown. A few of them, such as cilantro, beet, and sunflower seed greens, do better in soil. When you order the Microgreens Kit from GrowingMicrogreens.com, you will have most of the material you'll need like growing trays without drain holes, growing pads, seeds, pH test strips, spray bottle and complete instructions. You will need to provide a few other materials like lemon juice to adjust the pH of your water, and scissors to harvest. Obviously, you'll also need clean water. Keep in mind that the trays may be re-used many times, and it is fine to section multiple crops per tray, as I often do.
Here are some tips to help you become an expert at growing microgreens. After about one month, you will be a pro and will be giving Microgreen Kits out to your family and friends as much-appreciated gifts year-round. I give these kits (along with Sprouting Kits) as gifts all the time and everyone loves them! These are gifts that enhance the recipients' level of wellness and vitality. Expect to see an easier time losing weight when you grow and consume sprouts and microgreens, too. And yes, growing microgreens is fun and easy, yest you might experience some failures in the process as you experiment in getting it just right during your first month. Again, take a few minutes to watch these excellent Instructional Videos for Growing Microgreens.
Below are some general ideas and troubleshooting tips to help make your greens growing experience easier when growing hydroponically.
Planting Too Thick — If you spread your seeds too thickly, the microgreens will come in too dense and be susceptible to rot. If you feel like your greens are coming in too thick, you can always thin out the crop by carefully plucking individual plants.
Planting Too Thin — For microgreens, this will make for a small, scraggly crop, but won't cause any trouble.
Underwatering — Watch carefully for any signs of wilting. The grow pad should be kept fairly soggy for the full growth cycle. If the grow pad is merely damp, there is probably not enough in the tray.
Overwatering — Microgreens will thrive if the roots get the right mix of water and oxygen. Overwatering causes the root to not get enough oxygen and makes the crop susceptible to root diseases, and can even result in the loss of the tray. Avoid any puddles that extend above the root line. Ideally water should lay in the channels of the bottom of the tray.
Re-Cutting — Once harvested, microgreens will not re-grow. Dispose of the spent grow pads.
Rot — If you notice sections of rot in your try, it can be a sign of over-watering, or sowing seeds too thickly. However, most of the time, rot is an indication that your water is too alkaline (pH higher than 6.5). Make sure you pH balance your water or you will have weak crops. If you do not have occurrences of rot, give the rotting area a wide berth at harvest.
Multiple Crop Trays — There is no problem in sowing multiple crops in the same tray. In fact, it's a great idea! I do this all the time. You can easily segregate your seeds into different sections of the same tray, as long as the harvest times are reasonably similar.
Temperature — Cold may slow down growth rates of your microgreens. A nice warm spot will speed things up. Make sure however that your microgreens are always well-lit as light is more important than temperature. Visit GrowingMicrogreens.com for heat mats and other growing supplies.
Generally Weak Crop — If you baby your crop too much, it can make the crop weak. Microgreens should struggle a bit to survive. If they are not kept in the dark long enough, the result may be a weak looking crop. If you are having trouble with weak crops, you can add a little stress to strengthen your crop. Instead of uncovering your crop and exposing to light after 4 to 5 days, take the tray you are using as a dome and flip it. Spray the underside of the tray to moisten it, and lay it inside the growing tray so that the bottom of the tray rests on the top of your seedlings. This will force your crop's roots to penetrate the pad instead of snaking across it and grow much stronger to lift the tray and reach for light. Leaving the tray on the crop in this manner for a day or two can really strengthen a weak crop.
Pale Crop — Consider using a stronger light source for your microgreens. I recommend a good LED grow light that's available at GrowingMicrogreens.com.
Mucilaginous Seeds — Mucilaginous seeds should be sown and cared for the same as any other seed. However, they may be more sensitive to drying out in the early stages of sprouting. Make sure they are misted and kept damp.
Presoaking — Some seed types will do better if pre-soaked. Refer to the notes and directions that come with your Microgreens Kit. Presoak for the indicated time period in cold water.
Burned Crops — If you notice overly dry spots, a crop that looks like it has burn patches in it, or a crop that doesn't seem to be doing well under the light, the crop might be getting too much light. Some crops like arugula, bok choy, mustards, and turnips are more sensitive to light and can get burned. Increase the distance of your grow lights(or lower wattage). You can also decrease the amount of time your crop gets light.
Odor — It is not uncommon for the grow pad to give off a mild odor. Usually this does not happen until the crop approaches about 10 days. This is one of the reasons I recommend harvesting at about 10 days, though a few days earlier or later is fine.
Here are some of the ways you can use microgreens:
Garnishes — Microgreens make excellent garnishes for just about any dish. Look for the more colorful varieties like kohlrabi, red cabbage, red amaranth, beet, and red giant mustard to add a splash of color as garnish to soups, full size salads, sandwiches, hors d'oeuvres, and fruit plates.
Sandwiches — Use microgreens generously in place of lettuce on sandwiches. They are a fantastic addition to vegetarian/pita sandwiches, and can even be used on all kinds of burgers instead of lettuce.
Salads — Microgreens can be used to add color and garnish full sized salads, but I recommend making straight microgreens salads. They make an excellent addition to tomato, cucumber, and avocado salads. My all-time favorite microgreen is sunflower and I love to use it as a base for any micro green salad. There are an unlimited variety of combinations you can experiment with to mix and match colors and varieties. To make a pure microgreen salad, pile your microgreens high on the plate and garnish with wedges of tomato and avocado. I love microgreens straight without dressing, but try light dressings like lemon juice with seasonings, or balsamic vinegar and oil, if you like.
---
FYI: There are lots of delicious and nutritious menu ideas in my recipe book Recipes for Health Bliss; loads of must-have tips on the health benefits of eating more live foods in The Joy Factor; and everything you need to know about the healthiest herbs, foods, and spices and how to use them in your lifestyle in Walking on Air. With a purchase of any of these books, you can get a FREE copy of any of my seven Natural Remedy booklet/CD combos, just for the asking. To learn more about these seven books, please click HERE. Purchase all three books and get three booklet/CD combos as a gift set. To order, please call: 800-523-9971 (US & Canada) or 215-632-6100 (Intl), both ET, M - F • 9 - 5.